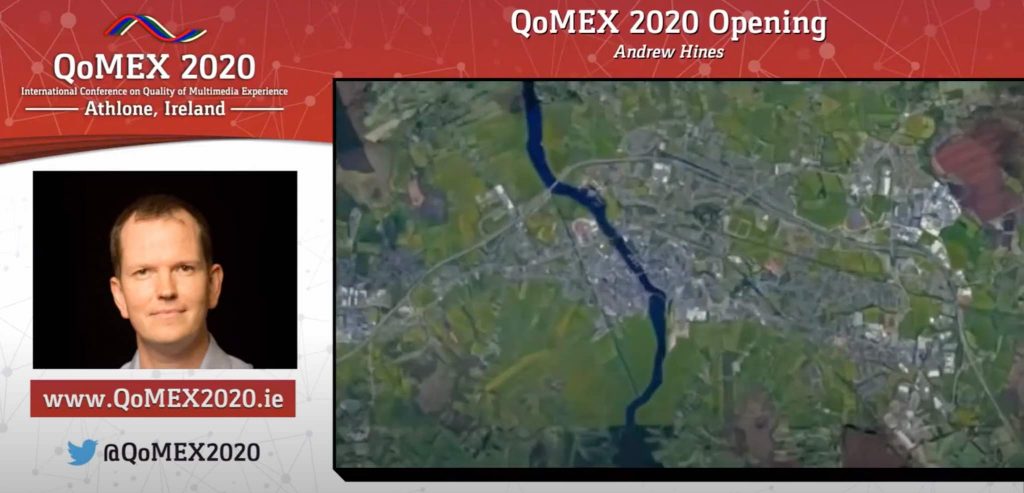 Andrew Hines (QxLab, UCD) and Niall Murray (AIT) hosted the International Conference on Quality of Multimedia Experience (QoMEX) in a virtual online format last week.
The conference provides an annual forum for experts from academia and industry to present and discuss current and future research on multimedia quality, quality of experience (QoE) and user experience (UX). The 12th edition, in 2020, was a conference unlike any that has gone before it. As a result of the global COVID-19 pandemic and associated travel restrictions, QoMEX 2020 was be held online as a virtual event. Without the planned "céad míle fáilte" or one hundred thousand welcomes for visitors to Athlone, Ireland, a three day technical programme and adapted social events were delivered in a novel and memorable experience for all attendees.
Curating an online conference programme was very different from a face-to-face event. But live streaming oral sessions, social zoom breakouts and virtual reality poster and pitch sessions through Mozilla Hubs gave attendees many of the regular conference experiences in a slightly repackaged way. There was even a traditional Irish style social music jam session.
Stephen Brewster (University of Glasgow), Hayley Hung (Delft University of Technology ) and Mel Slater's (University of Barcelona) delivered keynotes to the largest ever number of attendees in the history of the conference with over 330 participants registered.
A big thanks to all of the support team based in UCD and AIT without whom the conference would never have made it into the cloud!